B737 Freighter conversion for ASL Belgium
After a conversion from passenger to Aeronautical Engineers, Inc. freighter conversion by Commercial Jet, Dothan, Alabama facility and delivered to ASL-Belgium, in mid-January of 2017. Commercial Jet provided all of the touch labor for the passenger-to-freighter conversion, performed heavy maintenance and painted the aircraft. Insight-Aviation to support cargo conversion project management and technical administration.
About Commercial Jet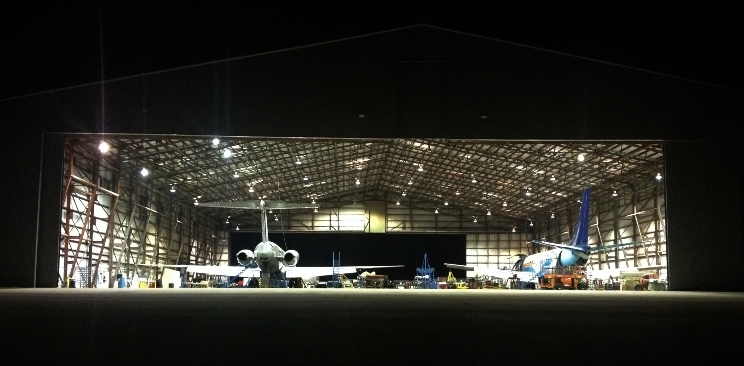 Commercial Jet is an FAA and EASA approved repair station that specializes in both scheduled and unscheduled heavy maintenance, line maintenance, modification services, complete airframe inspections, freighter conversions, interior modifications, avionics upgrade programs and complete aircraft painting. The company also offers lease return services, and refitting passenger and cargo aircraft for return to market. With over half-a-million square feet (46,000 square meters) of multi-bay hangar facilities in Miami (MIA), Florida and Dothan (DHN), Alabama, Commercial Jet serves passenger and cargo airlines, owners, lessors and military customers. Their professional team services a wide variety of commercial aircraft types, including B717, B727, B737, B757, B767, DC8, DC9, DC10/MD-11, MD80/90, A320 and A300. www.commercialjet.com.
About AEI
Aeronautical Engineers, Inc. (AEI) is a global leader in the aircraft passenger-to-freighter conversion business and is the oldest conversion company in existence today. Since the company's founding in 1958, AEI has developed over 120 Supplemental Type Certificates (STCs) and has modified 400 aircraft with the STCs. AEI helps its customers extend aircraft life and increase the overall value of aircraft assets by continuously focusing on dependable and flexible product offerings. AEI currently offers passenger-to-freighter conversions for the Boeing 737-400, 737-300, 737-200 and MD-80 aircraft. Additionally, AEI will offer the market its new CRJ 200 freighter conversion in 2015, followed by the Boeing 737-800 full freighter and combi conversions in 2017. www.aeronautical-engineers.com.
About ASL Belgium
ASL Belgium (formerly TNT Airways) is one of the world's largest express delivery companies. One of its main activities is to supply the FedEx-TNT combination European network with the required aircraft numbers and aircraft types to meet their ever changing network schedule and volume requirements. On a daily basis, ASL Belgium delivers close to one million consignments ranging from documents and parcels to palletized freight. www.aslairlines.be.
https://insight-aviation.com/wp-content/uploads/2021/10/INSIGHT-AVIATION-website.jpg
0
0
Stef Loup
https://insight-aviation.com/wp-content/uploads/2021/10/INSIGHT-AVIATION-website.jpg
Stef Loup
2017-02-06 14:06:18
2021-10-13 11:02:03
B737 Freighter conversion for ASL Belgium