Insight Aviation has achieved Part-CAMO, Annex Vc Certification
We are proud to announce that we have recently been accredited for EASA Part-CAMO by the Dutch Aviation Authority. Our new CAMO approval number is NL.CAMO.8351.
The Part-CAMO which will supersedes the existing Subpart-G of Annex I (Part-M) by and becomes mandatory as of September 24th, 2021. This new legislation is based on a number of safety and quality management principles including a strong customer focus, the motivation and implication of top management, the process approach and continual improvement. This accreditation helps improve the service for customers, as continual improvement ensures that our business becomes more efficient and maintains a high standard of service delivery. We are extremely proud of our achievement and will strive to continually improve the quality of our products & services.
The scope of covers the following listed aircraft types:
• Airbus A318, A319, A320, A321
• Airbus A330
• Boeing 737-300, -400 and -500 series
• Boeing 737-600, -700, -800 and -900 series
• Embraer ERJ-190 series (E1/E2)
• ATR 72-100, -200 series, ATR 72-212A series
• ATR 42-400 and -500 series
• Fokker 50/60
• Fokker 70/100
We are very much looking forward to discuss with you how Insight-Aviation can support your business.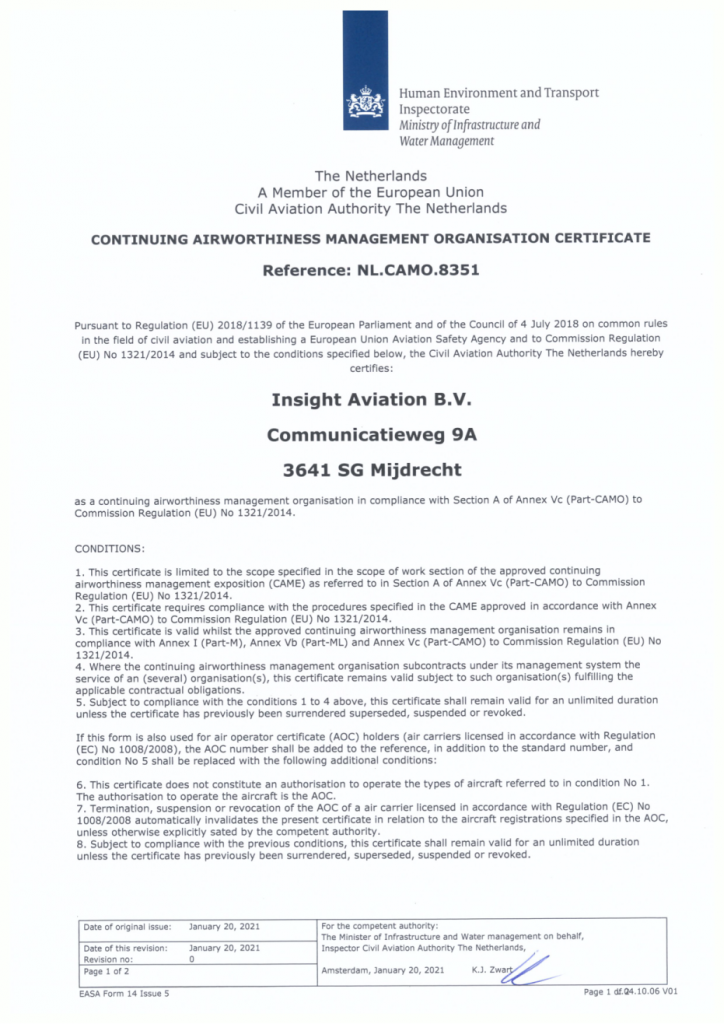 https://insight-aviation.com/wp-content/uploads/2021/10/INSIGHT-AVIATION-website.jpg
0
0
Stef Loup
https://insight-aviation.com/wp-content/uploads/2021/10/INSIGHT-AVIATION-website.jpg
Stef Loup
2021-01-21 09:09:12
2022-08-26 13:28:47
Insight Aviation has achieved Part-CAMO, Annex Vc Certification